Posted in Men's Health
Posted by Dr Michelle Woolhouse on 8 April 2020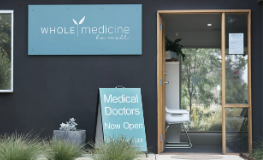 Firstly, we wish to acknowledge that we are very aware that many people are suffering from uncertainty, confusion, fear and social isolation at the moment and to all of you we send our warmest thoughts and best wishes.

Secondly, we would like to say a big thank you for all your support as a community. We have received so many kind wishes from people and gratitude for our service, which has been quite overwhelming. It is an honour to look after so many grateful people, who offer us all such respect during this challenging time. Australia is doing such a wonderful job of respecting each other and respecting the beauty of life for us all. I am particularly proud of what we have all achieved in all doing our part to flatten the curve.

Many people in the last few weeks have expressed guilt at making a normal medical appointment to see us, feeling like they are wasting our time or placing an unnecessary burden on our resources. Please, please, please be reassured, we are here for you, now more than ever. It is very important to us that we provide you with an even better service now. We have a lot of doctor and psychology availability at the moment and you are not wasting our time. This could be a great opportunity for some to start a new journey looking into health care for yourself, your family or your loved one or friend. Please don't hesitate to call us for all your normal medical needs. Our reception team will guide you through all the changes.

Below is an outline of our offering to our community throughout this pandemic:
ALL Patients are now eligible for Telehealth under Medicare.
Telehealth includes both video and/or telephone consultations.
Telehealth can be done in your home or office or from your car in our car park.
Medicare rebates apply to all telehealth consultations including all normal medical appointments, Care Plans, Mental Health Care Plans and Psychology and Dietetics Services.
All those over 70 and under 16 years and those at high risk of COVID-19 are bulk-billed.
Consultations done from the car park have the advantage that if you do require an examination or investigation this can be actioned at the time.
Our reception team will conduct payment over the phone and your Medicare rebate will be automatically reimbursed into your chosen bank account.
In the situation where an examination is deemed appropriate a follow-up appointment will be made.
Care plans and care plan reviews are all bulk-billed. There is no out of pocket cost for you. These can be done in the comfort of your home. Our Nurse Heather will be calling you over the next few weeks to schedule a good time.
All people suffering from upper respiratory symptoms, fever or flu-like illness or those with a travel or cruise ship history are consulted via telehealth only and are not seen in the clinic
Social-distancing is IMPORTANT to us:
To minimize human contact and interaction we ask all those that need to be seen at the clinic to wait in their car before seeing your practitioner.
Please call reception upon arrival to let us know you are here.
Our waiting room is as much as possible a people-free zone.
Our door is locked at all times at the moment to make sure this policy is strictly adhered to.
For all supplement orders: please phone reception on 5986-4229 to order and to pay. You can nominate to pick it up or have it posted to your home.
All people entering the clinic are to have their temperature recorded including staff daily.
Strict Cleaning and Sanitation is in place:
All the practitioners and staff adhere to strict hand washing between every patient.
A new cleaning roster has been devised and is activated throughout the day.
We will reduce any potential environmental contamination by cleaning with agents that are effective against corona viruses, particularly COVID-19. We use agents with high levels of proven efficacy based on external advice.
Hand sanitiser is available through-out the clinic for both staff and patient use.
We only accept card at this time: no cash, please.
Recommendations as to how these precautions should be implemented are changing all the time and we will strive to provide an environment where we can continue to deliver the best possible patient care, while also looking after the health needs of our valued patients and staff members.