Posted in Health and Well Being
Posted by Dr Michelle Woolhouse on 23 April 2020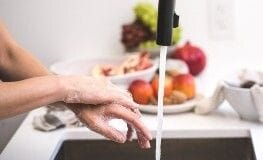 There are a lot of mistruths circulating in the community at the moment and we thought that we should take this opportunity to support you in understanding the importance of optimising healthcare during this COVID-19 pandemic:
Firstly there is a myth that people needing healthcare should stay at home to avoid overloading the health system or contacting the virus in a clinic or hospital.

There is nothing further than the truth. It is very much encouraged and always has been, that people SHOULD NOT stop coming to see their GP. Stopping seeing your GP during a pandemic is a major concern.
Regular screening, prevention and treatment are all very much needed to keep the medical system going and minimise the enormous strain that may occur when this whole pandemic/social isolation program ends. Regular general practice will be under enormous strain when this all ends if we don't maintain our regular healthcare visits. This is especially true for all chronic disease management such as asthma, mental health issues such as anxiety and depression, heart disease, diabetes, auto-immunity and cancer care to name a few. Never has there been a more important time to support your immune system by maximising chronic disease management and supporting overall holistic health principles.

In short: seeing the doctor for your chronic disease is very important, especially during this pandemic.

Some patients have interpreted the recommendation to stay home to mean that their chronic conditions don't need care or aren't a high priority and that monitoring with testing can wait. This is potentially risky, as good chronic disease control might make the difference between overcoming infection or becoming overwhelmed by it.

Patients with chronic disease should be attending for pathology tests and health monitoring, and care planning and review appointments with the nurse are also available.
Some people are anxious about attending their doctor because they think they can contract the virus from walking in open spaces in public to get to the clinic. Some people are fearful of leaving the house, while others fear that a clinic waiting room is a high risk. At Whole Medicine, our doors are locked, every person entering the building is triaged, their temperature is taken and social distancing is upheld at all times. This includes monitoring of the staff and GP's as well. Exposure to the virus is regarded as someone who has been in close face-face contact for over 15-30 minutes.
Given these systems are now in place, which includes:
Triage online and by phone to separate outpatients who may have had contact with coronavirus patients, or who have had recent travel.
Upper respiratory tract infections or fever, the likelihood of being in a room with a subclinical carrier is an incredibly low risk.
Patients should be reminded that healthcare can now be provided over the phone in many cases, which can provide comfort for those needing to remain in touch with their doctor but anxious about attending.

Telehealth is a timely innovation that GPs can use to prevent patients from falling behind in their care.

Call reception for further information 03 5986 4229.

We are here to support you through this, please don't hesitate to ask for help.