The flu jabs have arrived
Posted on 28 May 2018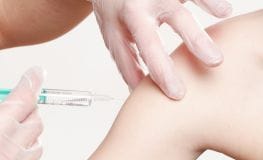 Some facts
Vaccines are the most effective way to prevent the spread of influenza in the community. Every year the virus adapts to it's environment, meaning the vaccine needs to adapt too to maintain its virulence.
Last year the 2017 flu season was with worst we have seen in years, prompting new recommendations for the community.
The flu vaccine doesn't contain live virus, so you can't get the flu from having a flu shot.
Taking good quality probiotics along side your vaccine has been shown to improve the immunity you get from it.
When is the right time to get the flu shot?
The government are concerned that because of the hype from last year's flu season, people are getting the flu shot too early. If you get the shot too early your immunity may start to wane in the early spring, just when the virus is starting to develop new strains and new defences.
So when is the right time to get a shot? Now is the perfect time to get your protection up to date.
Is there anything else I can do to help protect me from the flu?
People with chronic disease are more likely to get the flu, so it makes sense to try to be as healthy as can be, eating a whole-food plant based diet, regular exercise, good sleep habits and optimising nutrient levels go a long way to supporting your internal immune system.
Who is eligible?
Eligible for all over age 65 and those with certain chronic conditions, speak to your doctor. For a full list if eligibility click here. At Whole Medicine we are bulk billing your flu shot appointment, however there is a fee of $20 for the vaccination if you aren't eligible for a free one.
Will I feel poorly after I get the shot?
Some people report feeling a mild cold like feeling for a few days after the flu shot. To prevent this try taking some extra vitamin C and zinc both before and after the vaccination, this will help you get back on track quicker.
Where do I get it?
We stock the vaccine in clinic, so simply make an appointment by calling 5986 4229 or book online.