The Transforming Power of Gratitude
Posted on 24 June 2020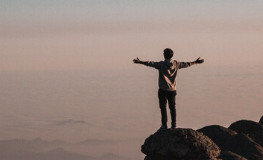 Last week my uncle was awarded an Australian Fire Services Medal in the Queen's birthday honours list in recognition of his 48-year career in the CFA. In a newspaper interview, he said, "It was a very rewarding job, I worked with fantastic people and I believed absolutely in what we were doing." I know he has a chronic debilitating illness, but the gratitude shown by this community recognition has transformed him, his life has meaning and purpose, despite his real physical suffering.
When I was younger, I was irritated by my grandmother finishing every story with "We have a lot to be thankful for". With some hindsight, I can see that gratitude was important to her long life and wellbeing. How else do you handle young children when your husband is away for six years at war? And after this flood, fire and a mouse plague on the Wimmera farm. Her gratitude gave her perspective and the pluck to keep ongoing.
Here at
Whole Medicine
, we might suggest some evidence-based strategies to allow you to be self-aware, hopefully, develop some perspective on your life and cultivate positive emotion. Research finds, 'gratitude contributes to several physical and psychological health benefits such as better cardiovascular and immune functioning. The strength of gratitude has spiritual benefits as well, such as a feeling of interconnectedness with life, a general sense of responsibility towards others and reduced emphasis on material goods' (VIA, 2020). Importantly, expressing thankfulness in your relationships is like 'emotional glue', enriching your bonds, boosting your wellbeing while elevating those around you.