When health becomes an unhealthy obsession
Posted on 19 July 2018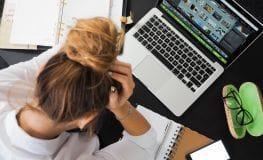 This article will appear in the Mornington Peninsula Magazine August 2018 Addition.

Over the past 15 years the internet-based positive health movement has:
Inspired us to review our dietary habits in a fast food-loving culture;
Encouraged us to slow down in a pace-obsessed world; and,
Emphasised the importance of lifestyle when it comes to our health and well-being.
But what about when health becomes an obsession, when all we think about is being optimally healthy, when we feel stressed, anxious and overwhelmed if we can't find a healthy option to eat, or our established healthy habits are blocked for a reason we can't control? This is what we call health anxiety.
Signs of health anxiety
Do you:
Worry about your health constantly?
Feel concerned that your doctor or medical tests may have missed something?
Request medical tests for things the doctor doesn't believe you have?
Need any relevant tests to be repeated more frequently than recommended?
Constantly look at health-related information on the internet or in books and magazines?
Avoid anything to do with serious illness, such as medical TV programs, movies and visiting loved ones in hospital?
Frequently check your body for signs of illness, such as lumps, tingling or pain?
Health anxiety means that you are stressed about your health and are not receiving any comfort from the healthy things you are doing in your life. You feel afraid of getting an illness in the future and feel out of control with regards to preventing it.
It is common to be concerned about our health, but when it starts detrimentally affecting our mental and physical health then addressing this as an independent factor can be a very important part of the treatment program.
Managing anxiety is an essential part of most people's long-term health journeys. If you feel you would benefit from learning more about managing it and how the anxiety biochemistry may be part of the condition you are trying to treat, call 03 5986 4229 to make an appointment and speak to your GP about learning the best way to manage your health.