Do you want healthy, happy hormones?
Posted on 25 September 2018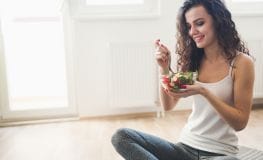 Do you suffer from:
Hot flushes, forgetfulness, joint aches and palpitations?
Sweet or chocolate cravings?
Afternoon fatigue?
Waking through the night?
PMT?
Lowered mood?
Excessive bloating, swelling or weight gain?
If so, your hormones may be playing a role.

Healthy hormones are one of the cornerstones of good health and well-being. Did you know that hormones affect every living cellular being? Good hormonal health is associated with good mental health, optimal performance, good energy and sleep to name a few, they are even associated with regulating our cravings and helping us find the perfect partner.

The other beautiful thing about hormones is that they all love talking to each other, so the health of one system affects the health of the other, for good and for bad.

Names such insulin, progesterone, melatonin, gherelin, thyroxine and cortisol are but a few of the crucial hormones that are at play when considering our optimal health.

But how do we affect our hormones, what can we do to make sure they are working as well as they can? Well this is where lifestyle, food choices, mental health, sleep, relaxation and other factors come into play.

Because hormones played a role in cellular health since time began, nature has evolved with nutrients, herbs and other vital things to help us along our way.

If you would like more information, why not come along to an intimate night with Dr Michelle Woolhouse and her colleagues. She will talk you through all the inter-connection that you need to know to understand and optimise your hormonal balance and your well-being.
Date:Thursday 11th October 2018
Time: 6.30pm to 8.30pm
Location: Frankston Library, 60 Playne Street Frankston
Cost: $30

Only 20 tickets left! Click here to secure your tickets.