Integrative approach to local health care
Posted by Dr Michelle Woolhouse on 20 July 2018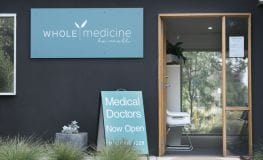 This article will appear in the Mornington Peninsula Magazine August 2018 Addition.

Mornington Peninsula residents now have access to one of the country's most modern medical clinics Whole Medicine. The medical practice was relaunched earlier this year after being founded as Peninsula Holistic General Practice in 2009. Founder and principal GP Dr Michelle Woolhouse says: "Whole Medicine takes an integrative approach to health care. This means using a combination of general practice with evidence-based holistic principles to help men, women and children be well."
Dr Woolhouse obtained her medical degree from Monash University in 1996 and is a fellow of the Royal Australian College of General Practitioners. She is also a fellow of the Australasian College of Nutritional and Environmental Medicine and has post-graduate training in hypnotherapy, acupuncture and mind-body medicine.
Whole Medicine provides a range of family GP services, preventative medicine, skin health treatments, community health talks, mind and body retreats and more. Dr Woolhouse explains. "Our health philosophy is to address the whole spectrum of a person's life, including emotional, physical, mental and environmental factors. We are passionate about helping local families and businesses take a holistic and comprehensive approach to health."
Professor Avni Sali AM, director of the National Institute of Integrative Medicine, says: "This is modern medicine. It is not just about trying to treat a person's cancer, ulcer or asthma; we are looking at the whole person." The team of highly qualified GPs who have additional expertise in evidence-based natural medicine offer patients longer, interactive consultations and work with them to help uncover their best self. The clinic includes modern rooms, an in-house dispensary, onsite minor surgery and skin care facilities and easy access to specialists, hospitals, procedures and investigations if required.
To book an appointment at Whole Medicine call 03 5986 4229.

Author:
Dr Michelle Woolhouse
About: Dr Michelle Woolhouse, Whole Medicine founder and principal GP, and her team understand the challenges patients face because they have experienced it either as doctors or patients. The practice was founded in 2009 out of a strong desire to redefine whole person care, to include nutrition and environmental medicine, and integrating mind-body techniques. The practice gained a reputation that challenged the traditional way of delivering patient care. Whole Medicine has flourished to become the choice for an inspired Mornington Peninsula community.
Connect via:
LinkedIn