A 2018 New year message from Dr Michelle Woolhouse
Posted by Dr Michelle Woolhouse on 9 January 2018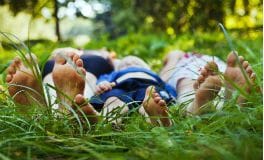 "It is always a special time, when a new year opens up to us all. As we say goodbye to the challenges and good times of the previous year, we start to look ahead with possibility, commitment and hope. Just before Christmas, the staff of Whole medicine (nee Peninsula Holistic General Practice) gathered together to do just that; say goodbye to the old and welcome in the new. Many patients over the Christmas period have been positively commenting on the new website, the new sage green branding and signage and have been asking us why we decided to change the name. So let us tell you all the reasons why...
We decided to change the practice name and update the website (www.wholemedicine.com.au) because we wanted to be more committed to the whole person and the whole community. Over the years we have been focusing on our expanded approach to medicine, which was becoming so popular, people were travelling from all across Victoria and even across Australia to come to see our GP's. Even though this is a humbling indication of how valued we are, we felt we were not able to service these patients well enough because of the distance and inadvertently we were jeopardising the accessibility to the clinic for our dedicated, local patient base. We also felt unable to service all the needs of our local patients, for example our patients felt unable to access our services when they needed a pap smear or were acutely unwell and would therefore need to go elsewhere. We don't think this is good medicine, as it is beneficial for patients to have a doctor who understands all their needs, one who they can see when they are acutely sick, one who can look after the whole family and help them navigate all the screening and prevention interventions they need to do.
The other issue for our patients was our accessibility points: What we discovered was that even though we believe in offering a time honoured system of medicine- this meant many local families felt that the 60 minute new patient appointment and associated costs were too much to justify if they were not significantly unwell. We wanted to change that too.
So, we as a group discussed these issues at our meetings, over coffee and around the tables over the preceding months. We talk about what good medicine meant to us, we talked about the importance of integration and we talked about what our values were as doctors and as a business. These discussions lead us to make some changes that we hope will help us to be the best medical group to help service our local community and stay committed to the Whole person model of care we are all so passionate about.
The changes we have made:
New and more affordable access points to the clinic so that we can accommodate your children, your family and increase our reach to the locals that want to be a part of this expanded and integrative approach to health care.
We have decreased our new patient appointment times and fees to suit a whole range of different people's needs.
We have a stronger focus on community medicine, such that we have zoned the clinic and give preferential access to those on the Mornington Peninsula.
We have dedicated 100K to chronic disease management and wellness coaching to help you achieve your health goals.
So this is why Peninsula Holistic became Whole Medicine. So along with the new name, comes a new approach, new accessibility, new commitment and new innovations.
Whole medicine is dedicated to helping our community be well, because we know a strong and healthy community will strengthen the health of the individual too.
Welcome to Whole Medicine, and make 2018 your year to Be well...

Author:
Dr Michelle Woolhouse
About: Dr Michelle Woolhouse, Whole Medicine founder and principal GP, and her team understand the challenges patients face because they have experienced it either as doctors or patients. The practice was founded in 2009 out of a strong desire to redefine whole person care, to include nutrition and environmental medicine, and integrating mind-body techniques. The practice gained a reputation that challenged the traditional way of delivering patient care. Whole Medicine has flourished to become the choice for an inspired Mornington Peninsula community.
Connect via:
LinkedIn